Your Own Customer Reward App/Loyalty App
We help small businesses to grow quickly and consistently.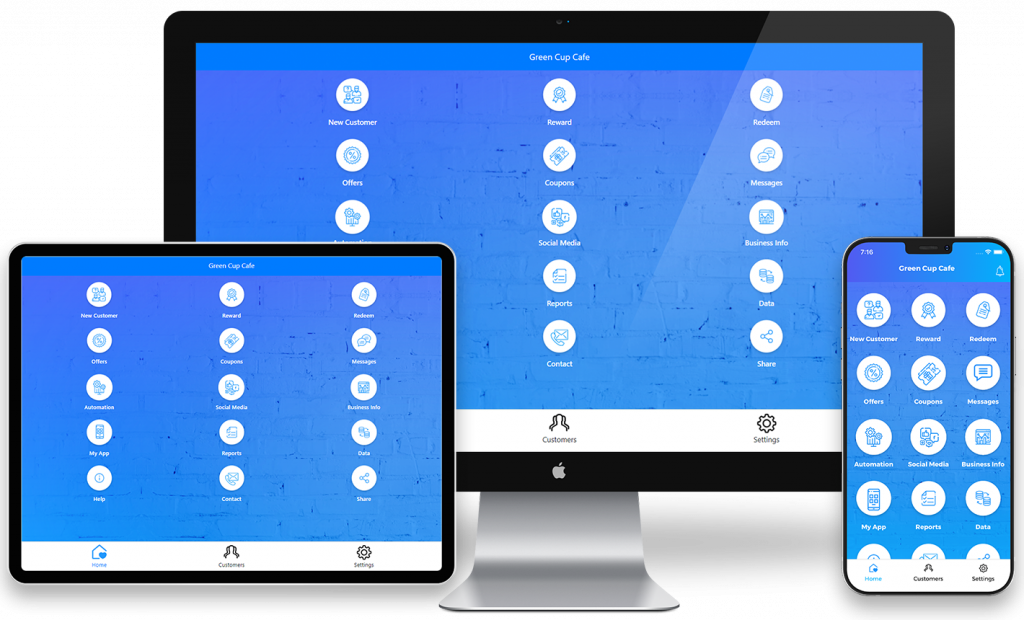 Designed to help businesses gain maximum benefits.
Your customer first downloads Reward Cards App on their phone and sets up their profile. You can scan their profile to assign them your digital reward card.
The system also works if your customer does not have a mobile app. You can issue a digital reward card using their mobile number,  email address, or some unique customer reference number.
You can also use pre-printed reward cards. It means you can migrate your paper or plastic card system to the reward stamp app.
You are using a fully digital reward card. This helps you save plants by reducing your carbon footprint in the form of reduced plastic and paper use.
No no more lost or stolen reward cards. Go digital and get ready for the AI-driven business world.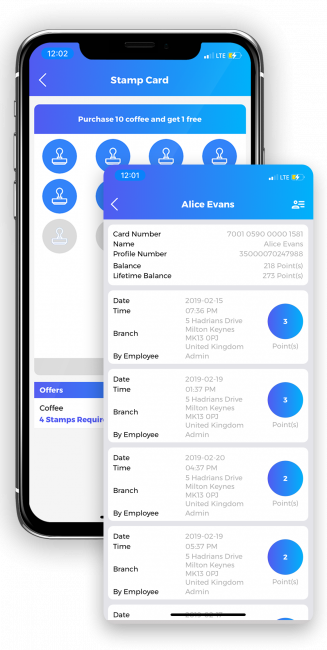 Reward Stamp App gives 2 options to select from while setting up your reward system.
Option one is the stamp system and option two is the point system.
In the stamp system, you issue a stamp to your customers for their purchase.  This option is used by businesses, which has limited product or services on the list. Like cafes, Hairdressers, Beauty salons, Vet clinics, Fitness Classes, Yoga Classes, Restaurants, Pizza Shops, Car Wash, and Garages, etc. Here, customer reward is predefined, in the form of a stamp card. And the customer is aware of what is expected if they reach certain stamps.
In the point system,  you issue points to your customers for their purchases. This option is used by the business, which has a big list of products or services. Like the grocery store, pharmacy, clothing store,  or superstore. It can also be used by, businesses with high price items. like airlines, hotels, tours and travel, brand stores, and car dealers, etc.
Here, customers simply keep collecting points. And they are rewarded regularly in form of discounts or cash coupons or freebies based on business strategy.
You can direct chat with your customers using Reward Stamp App. Your customers will have access to their chat in Reward Cards App. These can be used for many cases like order placement, resolving customer query, sending order progress etc.
The Reward Stamp app also allows you to send Transactional messages, Promotional messages, Targeted Messages, and Automated Messages. You can send a message in the form of Reward Card Notification, SMS, or Email.
The  Reward Cards Notification is used to send mobile notifications to the Reward Cards App. This option will only work if your customer has downloaded the Reward Cards App and received your Reward Card.
The SMS or Text message is used to send your customer SMS on their number. This option is helpful if your customers are not actively connected to the internet.
The Email is used to send a message which has long information. Notification and SMS are mostly used to send short messages,  while email has practically no limitation for message length.
All three options can be used to send bulk messages or send messages to individual customers.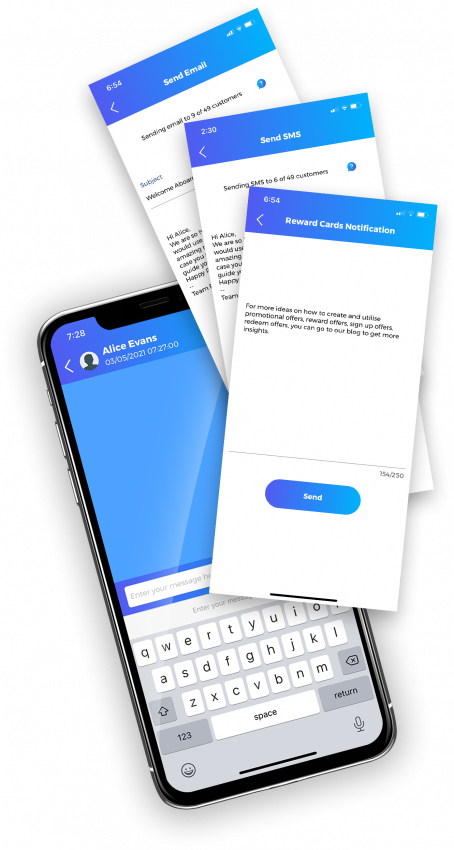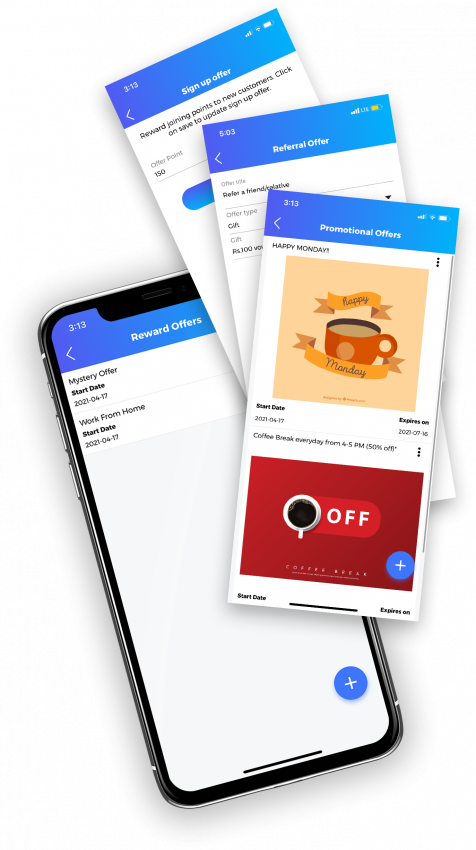 The Reward Stamp app allows you to set various offers for your reward program. The offers like Reward Offers, Redeem Offers, Sign up Offers, Referral Offers, and Promotional Offers
The Reward offers are used to create an offer, which can be used to give points to your customer. For example "get extra 100 points for buying some product".
The Redeem offers are used to create an offer, which can be used to redeem points from your customer. For example "Collect 1000 points and get a 10 percent discount".
The Promotional offers are to create offers, which are available to your customer in the offer section of the Reward Cards App. These offers are not linked to any reward and loyalty. It is only a promotional offer for your regular customer. These can be seasonal offers, new product launches, etc.
The Signup Offer is used to encourage your customer to join your reward program. So when they join your reward program they will be eligible for this offer.
The Referral Offers are used to encourage your customers to refer their friends and family to your business. You can set points, discounts, or some freebee as the reward for the referral.
Coupons are the most alluring way to encourage your customers to continue to shop or use your services. You can issue a cash coupon to one customer or to the whole lot of them.
The Cash Coupon will let you create a coupon for any amount and set optional expiry to it. You can issue it as a reward to your customer or as a credit note. This coupon then can be redeemed against any future purchases.
The Points to Coupon allows you to automatically convert points accumulated by your customers into cash coupons. Once configured the system will automatically convert points accumulated by customers into cash coupons.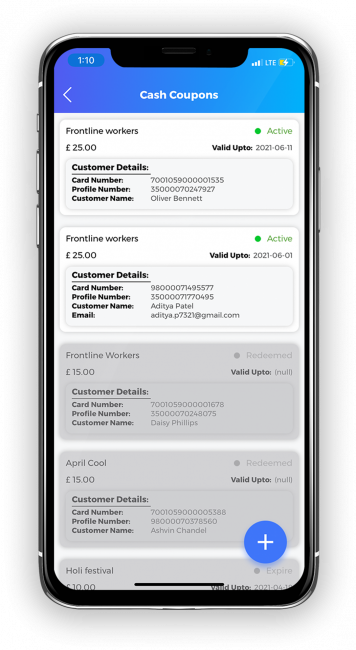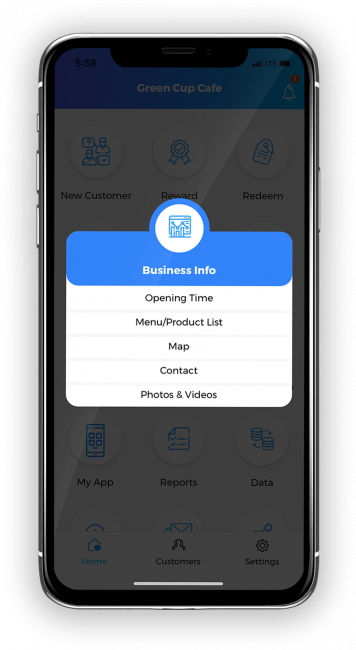 The Business Promotions allows you to publish your business information directly to your customer using Reward Cards App. It allows you to list your Opening hours. So customers will know the business hours means the opening and closing time of every day of the week.
You can also publish your menu or product list. Here you can add your menu if you are a restaurant or menu of the services you provide or list of products you sell.
The business Map is another thing you can publish here. This helps your customers to locate your business on Google Maps.
You can add all your contact details here like Mobile Number, WhatsApp Number, Email Address, Facebook Chat, etc. So it will be easier for your customer to reach you.
You can add photos and videos of your product, service, or business location.
The social media option provides a great chance to develop a two-way communication channel with your customers. It also can be used to build relations, receive feedback and attract customers to your social media pages which can be filled with interesting pictures, videos, events, and offer updates which your customer can see and be informed about.
Linking your social media pages here can increase your brand reach and awareness in the eyes of your customer. Exposure to your social media can improve trust and authenticity; you can connect to users in a more meaningful way and show them who you truly are.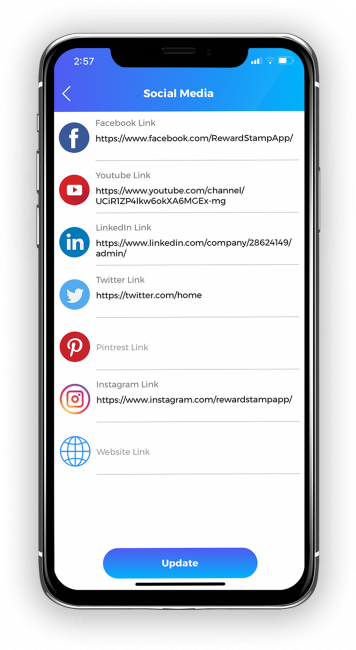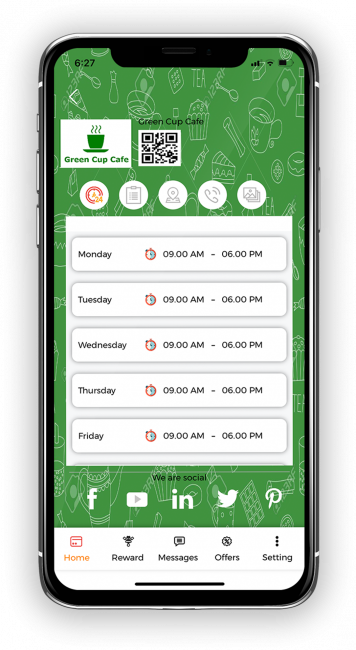 The Reward Stamp App allows you to launch your own mobile app in Google Play Store and Apple Store. It will be your own Android and iOS app with all the business information as specified in the Business Info section plus your Reward Card.  Customers will not only be able to download and see all your business info, but they will also be able to join your reward program.
Launching your app is easy and can be done in few clicks. Just fill up some information in this section, upload your app logo, configure design and finally request to be released on the app store with an authorization letter. 
Automation is the way for you to automate many functions of your reward program.
The Customer Segment gives you an option to created various customer segments which can be used to target them separately. It is grouping customer based on certain criteria like "new customers in 30 days"  or "Customers who have spent at least 100 dollars"
Automatic Events give you an option to automate communication with your customer. You can send an automatic message to customers based on various events like "Send a message 7 days before birthday" or "Send a redeem reminder" etc.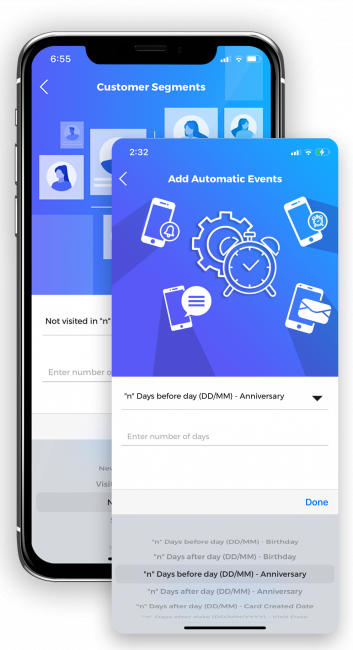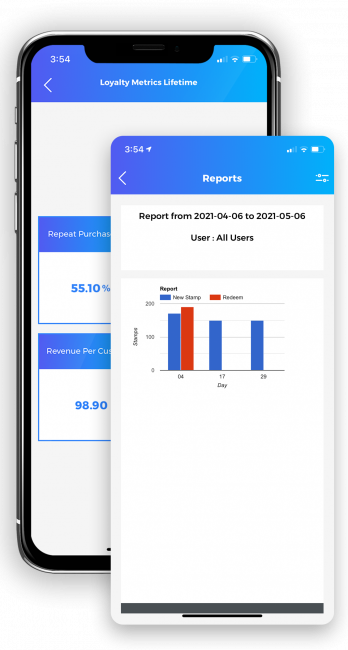 Customer Analytics lets you monitor the performance of your reward program. you can measure loyalty metrics like "Repeat Purchase Rate", "Redemption Rate", "Revenue per customer", and "Average Order Value".
You can also track customer activity like tracking regular customers and filtering most loyal customers.
Analytics also help you identify critical information about your business. For example "Most and Least busy hour of the day" or "Most and least busy day of the week" and many more.
This helps you to improve your business by promoting your business, by adjusting your staff or by changing your business timing, etc. You can optimise your business to achieve maximum revenue with the minimum resource.